All For One
L o v e info P e a c e info H o p e
L e pathway F l e u r pathway S a u v a g e
Please read our disclaimer.
Tell us about yourself
A unified fellowship suppling a forum for the arts
[Home] [Fantasy Magazine] [Family Fun] [Shopping] [Music & Movies] [Places To Go] [Finance] [Not Just Free] [Advertising]

Pictures Ancient One Poems Bonsai Trees Mike Cooper Our Products Site Map
Art Articles Wolf Story Ancient Healing Art Down-Loads Stories Testimonials About Us
---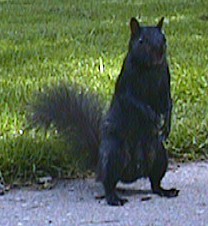 "Herman"
The Black squirrel who live at Red Arrow Park.
page 1 page 2 page 3

Hello! My name is Peanuts and I share a residence with Bonsai and Zongzi. Due to the rumors about me purposely running over Herman with the limousine, (Herman was the only black squirrel who lived in at Red Arrow Park.) I have decided to document everything that I did on 6/4/2000 and set the record straight.
I work as a chauffeur for the Les Fleur Sauvage Web-site. My limousine, assisted by several satellites, is driven by remote control. My jobs consist of picking up clients, prospective clients and club officers from the airport and then take them where they want to go.
Yes I am a mouse with a job! A job that consist of basically just occupying space. I have no say in where this Limousine goes to. Before I was comfortable with this job I just ran back and forth on the dash board. Now I just kick back and make easy money!
Zongzi had,the one who has taken care of me, since I don't know when, lost his job and is going through a bad time financially. So, Bonsai and I had to find employment. We both owe Zongzi so we volunteered to earn some money to pay the bills. Bonsai is a guard dog and he works third shift at "Big Butts' Junkyard".
On the date mentioned earlier, I got up at 4:15 am. My morning began with a short work-out beginning 38 chin-ups. Then I turned on some music and stretched out by jumping on my tambourine. After that, I ran on the wheel for about ten minutes and then I took a shower.
When I was finished with the morning snack Zongzi had fixed for me, at quarter after five am, he carried me out to the limousine. (It had rained out the night before and I did not want to get my uniform dirty.)He then started the motor and pressed the satellite activation button. This limousine is preprogrammed to the second. It even has a back-up system that guarantee it will complete all job assignments.

Click here to continue "The Herman Story".
Written by a mouse named Peanuts!
THANK YOU!!! With out your generous donations this site would not be possible! : )
Click here to find out ways you can help this web-site.
Click here if you want to become an certified member!
Please click here to send a note to Rick!
---
L e s info F l e u r info S a u v a g e
L o v e info P e a c e info H o p e
A unified society with the commitment to supply a forum for undiscovered talent.
Tell us about yourself and receive our newsletter!
Pictures Ancient One Poems Bonsai Trees Mike Cooper Our Products Site Map
Art Articles Wolf Story Ancient Healing Art Down-Loads Stories Testimonials About Us
---
Information+Free Stuff+Music & Movies+Shopping+Sports & Fitness+Career & Education+Business & Finance+Technical
---
©2010 by Rick Sentieri
All rights reserved.
Disclaimer- http://ricksentieri.com and associates accept no responsibility for any merchandise bought from online stores via these links.
No part of of http://ricksentieri.com may be digitally stored, reproduced, altered, or disseminated in any form or by any means without written permission.
http://ricksentieri.com is a work of fiction. References to real people, events, establishments, organizations, and incidents @ http://ricksentieri.com are creations of the author's imagination, and their resemblance, if any, to actual events or persons, living or dead is entirely coincidental.
Le Fleur Sauvage Productions
Kenosha, WI
Please read our disclaimer.
Advertising Rates For RickSentieri.com If you even thinking about advertising on this site please E-mail u