All For One
L o v e info P e a c e info H o p e
L e pathway F l e u r pathway S a u v a g e
Please read our disclaimer.
Tell us about yourself
A unified fellowship suppling a forum for the arts
[Home] [Fantasy Magazine] [Family Fun] [Shopping] [Music & Movies] [Places To Go] [Finance] [Not Just Free] [Advertising]

Pictures Ancient One Poems Bonsai Trees Mike Cooper Our Products Site Map
Art Articles Wolf Story Ancient Healing Art Down-Loads Stories Testimonials About Us
---
Scroll down to read "A STORY ABOUT A WOLF."

The Bonsai story is dedicated to the memory of a man who had a heart as big as the ocean.
Jason Sincock 7/6/75-9/8/94
---
Check this out ...Complements of ToddZilla

Bonsai - a video anthology (1.8MB download)
Click on the link above "Bonsai - a video anthology"
and meet Jim's buddy!





You'll need the Real Player.
Click the link above to get it.

---
The following is:
"The Bonsai's Story"
Chapter 1 "A Wish Come True"
Written by Hellcat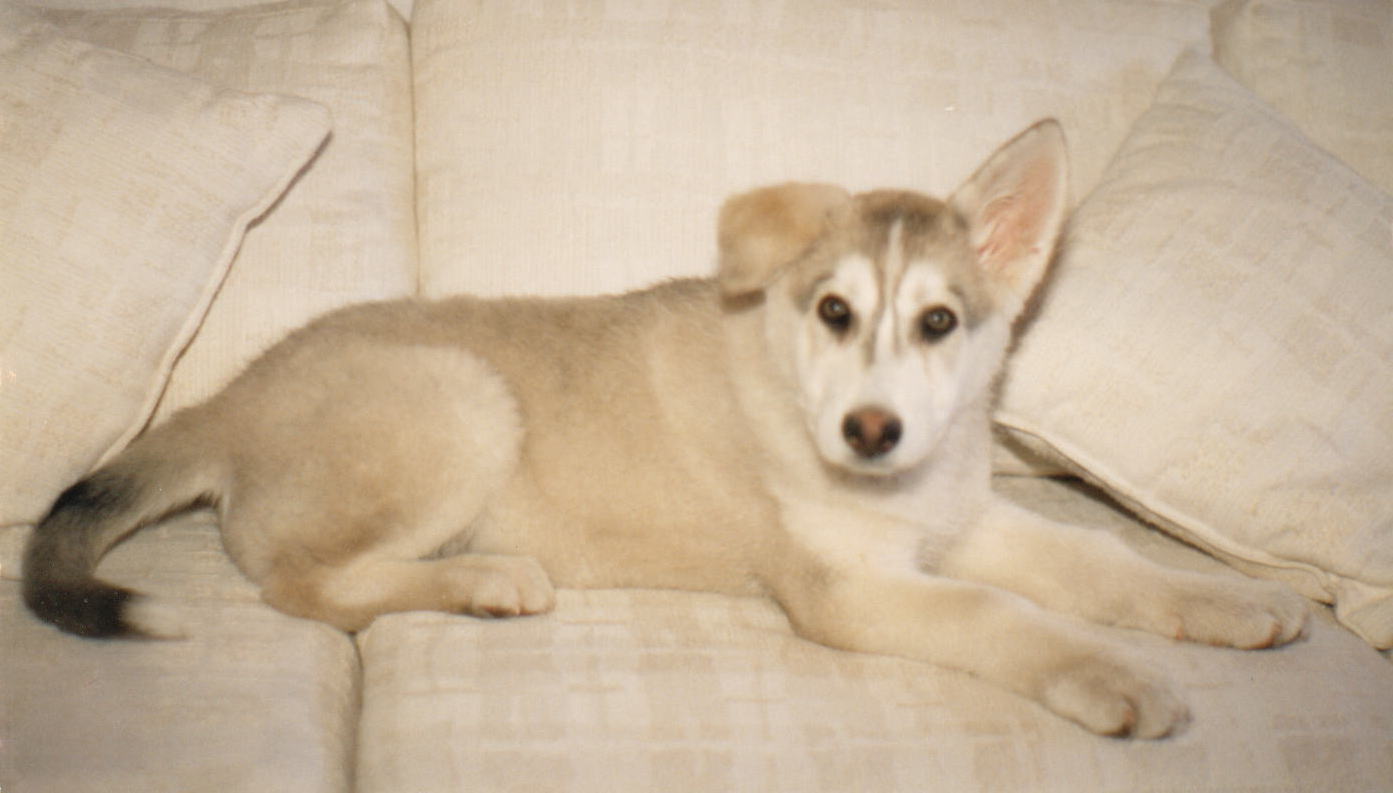 the first picture of Bonsai
Click on picture for full size.
This photograph was taken on the first day Jim got him!
Photo by Rick Sentieri
For next photograph click here!
The Bonsai Story
Written by Hellcat
Les Fleur Sauvage Staff Writer.

page 1Wolfpage 2Wolfpage 3Wolfpage 4Wolfpage 5Wolfpage 6Wolfpage 7Wolfpage 8Wolfpage 9Wolfpage 10

Chapter One
A Wish Come True
page 1
A friend of mine came over one day. His name is Zongzi and he was excited about an ad he saw in the newspaper. He pointed it out ad stated "Puppies for sale."
Just a few days earlier Zongzi had mention to me that he is interested in getting a puppy.
You see it was hard for Zongzi to decide on getting a new dog because of his bad experience he had with his last dog, Ivan.
Ivan was a long-haired German shepherd that had to be put to sleep for biting someone's face.
Zongzi asked me to give him a ride to look at the pups. I told him I would and I gave him a ride to a old shack way out in the woods.
On the way, I could see the excitement in his eyes about having a new buddy. At this time in his life, Zongzi did not have much. He had no real home and most of the time he slept in his van. I herd that he keeps all his possessions down in an underground fort somewhere deep in the woods. However, I am not too sure he actually does.
When we first laid eyes on the little puppies, Zongzi knew right away which one he wanted. One of the pups had a broken ear like his last dog, Ivan. We watched the puppies play for awhile and we noticed that the other puppies were pushing around the one that Zongzi liked. Zongzi always roots for the underdog.
We knocked on the door and a woman answered. After we introduced ourselves, she replied saying that her name is Irene. She then went on to say that she would only sell her puppies to good home.
Zongzi assured her that he would take care of the puppy. He then said,
"How much are you selling them for and can you tell me a little about the parents of the litter?"
Irene then replied saying "We have only sold one so far and it was the albino. The price for the albino was $500.00 and we expect to get at least that much for each of the puppies."
Irene then told us stories about how the parents would work as a team. She said that the female would wait and pounce on prey that would be fleeing from the male. She also said the female had to weigh over one hundred twenty pounds and the male could easily jump over a six foot fence!

Click here for page two and continue to read "The "Bonsai Story"

Written by Hellcat
Les Fleur Sauvage Staff Writer.

THANK YOU!!! With out your generous donations this site would not be possible! : )
Click here to find out ways you can help this web-site.
Click here if you want to become an certified member!
Please click here to send a note to Rick!
---
L e s info F l e u r info S a u v a g e
L o v e info P e a c e info H o p e
A unified society with the commitment to supply a forum for undiscovered talent.
Tell us about yourself and receive our newsletter!
Pictures Ancient One Poems Bonsai Trees Mike Cooper Our Products Site Map
Art Articles Wolf Story Ancient Healing Art Down-Loads Stories Testimonials About Us
---
Information+Free Stuff+Music & Movies+Shopping+Sports & Fitness+Career & Education+Business & Finance+Technical
---
©2010 by Rick Sentieri
All rights reserved.
Disclaimer- http://ricksentieri.com and associates accept no responsibility for any merchandise bought from online stores via these links.
No part of of http://ricksentieri.com may be digitally stored, reproduced, altered, or disseminated in any form or by any means without written permission.
http://ricksentieri.com is a work of fiction. References to real people, events, establishments, organizations, and incidents @ http://ricksentieri.com are creations of the author's imagination, and their resemblance, if any, to actual events or persons, living or dead is entirely coincidental.
Le Fleur Sauvage Productions
Kenosha, WI
Please read our disclaimer.
Advertising Rates For RickSentieri.com If you even thinking about advertising on this site please E-mail us