All For One
L o v e info P e a c e info H o p e
L e pathway F l e u r pathway S a u v a g e
Please read our disclaimer.
Tell us about yourself
A unified fellowship suppling a forum for the arts
[Home] [Fantasy Magazine] [Family Fun] [Shopping] [Music & Movies] [Places To Go] [Finance] [Not Just Free] [Advertising]

Pictures Ancient One Poems Bonsai Trees Mike Cooper Our Products Site Map
Art Articles Wolf Story Ancient Healing Art Down-Loads Stories Testimonials About Us
---
Scroll down to read "A STORY ABOUT A WOLF."

The following is:
"The Bonsai's Story"
Chapter 2: "SUPER PUPPY TO THE RESCUE!"
Written by Hellcat

Your heart smiles when you show your love..

This picture was taken at North Kennedy Drive, Kenosha W
These pictures and more are included in the Bonsai Calendar.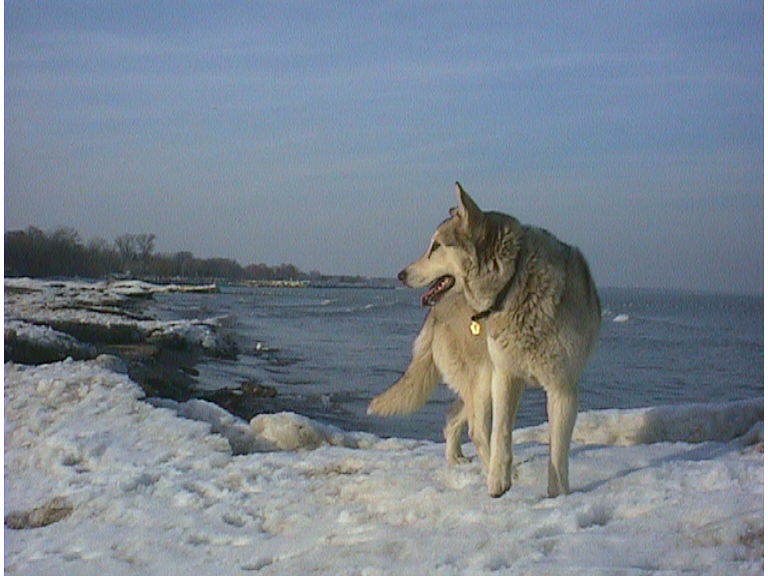 Bonsai
Click on picture for full size. Photography by Rick Sentieri
Next Photograph

The Bonsai Story
Written by Hellcat
Les Fleur Sauvage Staff Writer.
page 1Wolfpage 2Wolfpage 3Wolfpage 4Wolfpage 5Wolfpage 6Wolfpage 7Wolfpage 8Wolfpage 9Wolfpage 10
page 4
Then one early Saturday morning when I was walking home from Joe's, I saw Bonsai chasing Zongzi's van! I didn't know what to think. However, I found out later that it was part of Bonsai's training.
When I stopped by Joe's after work, he would give updates on Bonsai's training.
Joe said, "Zongzi brings Bonsai over to have a beer and eat ice cubes. Bonsai loves to chase my remote controlled dune-buggy all over the place! Zongzi brings Bonsai where ever he goes."
Joe also informed me that other animals distract Bonsai but over all Zongzi says he is easy to train.
Except for when I have seen him out at the bars, every time I saw Zongzi he had Bonsai with him. Zongzi said that he didn't bring him to the bar because Bonsai didn't like being around strangers. Bonsai showed his devoted from the start. I remember the way Bonsai ran to door to meet Zongzi for the first time. Bonsai knew Zongzi would be his buddy.
I then asked Joe, "Do you know where they been lately?
He replied saying, "Bonsai and Zongzi are living on the lakeshore in his van down. It's just passed the old gangster house. Zongzi's training Bonsai how to climb the frozen waves and check for thin ice."
So that early Sunday morning, in the dead of winter, Joe and me went down to visit him. When we got close enough to see Zongzi's van, we saw thick black smoke! We got there as quickly as we could.
When we got there, we witnessed Bonsai pulling an unconscious Zongzi out of the van. Bonsai, with his teeth, he had Zongzi by the back of neck. Bonsai showed great strength and determination. This puppy pulled Zongzi out of the flames and through the side door of the van. With our own eyes, Joe and I saw Bonsai save Zongzi from burning to death in the van.
When Zongzi caught his breath, he informed us that he must have fallen asleep writing by candle light. He continued to say that the candle must of fell off the plastic cooler he was using for a table. We all knew that he was lucky to be alive because the whole inside of the van was completely burnt.

Click here for page five and continue to read the "Bonsai Story"

Written by Hellcat
Les Fleur Sauvage Staff Writer.
---
THANK YOU!!! With out your generous donations this site would not be possible! : )
Click here to find out ways you can help this web-site.
Click here if you want to become an certified member!
Please click here to send a note to Rick!
---
L e s info F l e u r info S a u v a g e
L o v e info P e a c e info H o p e
A unified society with the commitment to supply a forum for undiscovered talent.
Tell us about yourself and receive our newsletter!
Pictures Ancient One Poems Bonsai Trees Mike Cooper Our Products Site Map
Art Articles Wolf Story Ancient Healing Art Down-Loads Stories Testimonials About Us
---
Information+Free Stuff+Music & Movies+Shopping+Sports & Fitness+Career & Education+Business & Finance+Technical
---
©2010 by Rick Sentieri
All rights reserved.
Disclaimer- http://ricksentieri.com and associates accept no responsibility for any merchandise bought from online stores via these links.
No part of of http://ricksentieri.com may be digitally stored, reproduced, altered, or disseminated in any form or by any means without written permission.
http://ricksentieri.com is a work of fiction. References to real people, events, establishments, organizations, and incidents @ http://ricksentieri.com are creations of the author's imagination, and their resemblance, if any, to actual events or persons, living or dead is entirely coincidental.
Le Fleur Sauvage Productions
Kenosha, WI
Please read our disclaimer.
Advertising Rates For RickSentieri.com If you even thinking about advertising on this site please E-mail u