All For One
L o v e info P e a c e info H o p e
L e pathway F l e u r pathway S a u v a g e
Please read our disclaimer.
Tell us about yourself
A unified fellowship suppling a forum for the arts
[Home] [Fantasy Magazine] [Family Fun] [Shopping] [Music & Movies] [Places To Go] [Finance] [Not Just Free] [Advertising]

Pictures Ancient One Poems Bonsai Trees Mike Cooper Our Products Site Map
Art Articles Wolf Story Ancient Healing Art Down-Loads Stories Testimonials About Us


The ones who love you need you the most.
.Hellcat Position: Local Beat Writer
Hellcat writes anything that he wants to.
Click here to read his "Bonsai Story"
The following is written by Hellcat:

I live very far from Rick's lovely dovey dreamy world heavenly blissfulness! I have bad luck when it has come to love. Because most of girlfriends I go out with end up treating me like crap! I could careless because most of them are not that smart! I dump one and then go on to the next.And when I am bored I go back to my old flames! They always take me back! Most of the time I rather be alone, by myself. I enjoy smoking cigarettes and drinking beer. Call me a loner but I just can not stay with one woman. I like them all and want to some quality time with them all.
Yes, I like to gamble, smoke and cuss and I am never at home unless I am sleeping.
If you are trying to get a hold of me when I am on my CB, go to channel thirteen and call out "Hellcat come back. Or leave a message somehow and and I will call you right back!
YEA RIGHT!
I love to ride my collection of antique motorcycles and do burn-outs with my front tire against the bar. This always clears out the joint and I get to have a drink in peace.
I first rode this bike (pictured below) when I was only three years old!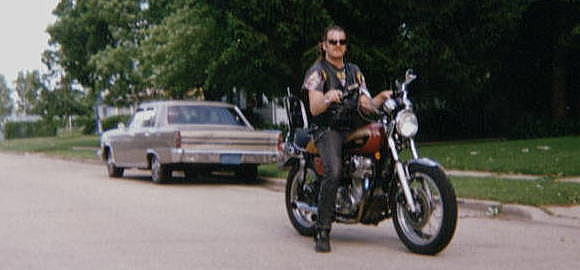 Hellcat
Hellcat is a singer/ songwriter and storyteller.
That is my antique car! Its' a 66 RAMBAM!
The RAMBAM story will be up soon.

I am not tiring to get attention! But I got to get something off my chest!
The following is a message to Rick Sentieri.

"Rick, I am sick of Pamela this, Pamela that, and NO! I do not want to read your latest LOVE poem that you have wrote her! (I did not vote for you to win best Love Poet) AND NOONE ELSE DOES!
Rick you are getting on my nerves like you would not BELIEVE! Who do you think you are! Yea (HAHA) You are no time traveler! AND you do not know alternative futures! Please! Give me a break! Rick why can't you come clean on what you think you know!
!HUH! Of course you'll say that you can't say anything because a time travelers oath "You can't tell one syllable of what you see." That's a bunch of crap! Yea! Your Zongzi's Journey" is a hoo humm piece of sappy piece of garbage!
I never got past the first page!
Why do you want to make a movie out of one of your wet dreams!
OH she makes your heart go pitter-patter..I for one do not want to hear about it!
Also, Rick do not waste any more of my time with all your big dreams. I think you should see a professional physiologist!
YOU WILL NEVER WIN A NOBEL PEACE PRIZE FOR YOUR POETRY!
OH YEA and your singing along with those Country FEMALE singers, Reba, Lyann and Jodee really freaks us all out!
Why can't you sing along with ACDC or Ozzy like you use to!

ONE LAST RIP ON YOU OLD MAN fairy SENTIERI
Your tweaking imaginations has you believing that you hair is growing back!
It is not going to grow back so get used to it!
Everyone already calls you the "The AMERICAN BALD POET".
That's right go ahead and go "boohoo" all the way home because it is something that is not going to change!
I can not wait till the day you are completely Bald!
You know everyone knows that you instruct you photographers not to photograph your bald spot!

Rick, wake up and smell the coffee! YOU ARE NOT ALL THAT!

I AM SO SICK to my stomach seeing your sappy love crap all over the place! *%#@+()~

Hellcat

PS: Rick you are one of my greatest friends and you know I will always support you.
---
Click here to find out ways you can help this site!
Click here to find out ways you can help this web-site.
Click here if you want to become an certified member!
Please click here to send a note to Rick!
---
L e s info F l e u r info S a u v a g e
L o v e info P e a c e info H o p e
A unified society with the commitment to supply a forum for undiscovered talent.
Tell us about yourself and receive our newsletter!
Pictures Ancient One Poems Bonsai Trees Mike Cooper Our Products Site Map
Art Articles Wolf Story Ancient Healing Art Down-Loads Stories Testimonials About Us
---
Information+Free Stuff+Music & Movies+Shopping+Sports & Fitness+Career & Education+Business & Finance+Technical
---
©2010 by Rick Sentieri
All rights reserved.
Disclaimer- http://Ricksentieri.com and associates accept no responsibility for any merchandise bought from online stores via these links.
No part of of http://Ricksentieri.com may be digitally stored, reproduced, altered, or disseminated in any form or by any means without written permission.
http://Ricksentieri.com is a work of fiction. References to real people, events, establishments, organizations, and incidents @ http://Ricksentieri.com are creations of the author's imagination, and their resemblance, if any, to actual events or persons, living or dead is entirely coincidental.
Le Fleur Sauvage Productions
Kenosha, WI
Please read our disclaimer.
Advertising Rates For RickSentieri.com If you even thinking about advertising on this site please E-mail u