Click here to purchase "Zongzi's Journey"
All For One
L o v e info P e a c e info H o p e
L e pathway F l e u r pathway S a u v a g e
Please read our disclaimer.
Tell us about yourself
A unified fellowship suppling a forum for the arts
[Home] [Fantasy Magazine] [Family Fun] [Shopping] [Music & Movies] [Places To Go] [Finance] [Not Just Free] [Advertising]

Pictures Ancient One Poems Bonsai Trees Mike Cooper Our Products Site Map
Art Articles Wolf Story Ancient Healing Art Down-Loads Stories Testimonials About Us
---
Purchase Zongzi's Journey $10.00
Helping others can boister your own ability.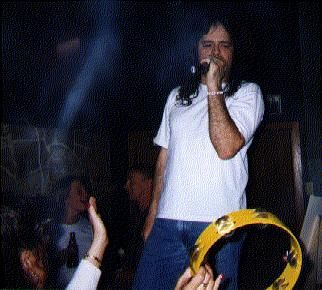 This picture was taken on 6/3/97
Rick Sentieri
Artist, Poet, Singer
Voted by members of Les Fleur Sauvage, best Love poet of 1999!

MARKETING DEGREE & STUDENT TRANSCRIPT

Position: Cosmic Translator
Rick Sazs.."somtimes when I sing or play my harp,It feels like there are spirits around me!"
"In this picture you can see a ghost floating just to the left of me!"
"I sit in with local musical bands and I also do Karaoke."
"I usualy sing ACDC, Aerosmith and the Rolling Stones!"

click here to send a message to Rick Sentieri
On the following pages is you will find more pictures and stories about Rick.
Page 1 American poet Page 2 American poetPage 3 American poetPage 4 American poetPage 5 American poetPage 6 American poetPage 7 American poetPage 8 American poetPage 9 American poetPage 10 American poetPage 11 American poetPage 12 American poetPage 13 American poetPage 14 American poetPage 15 American poetPage 16 American poetPage 17 American poetPage 18 American poetPage 19

"I have completely enjoyed the enjoyed the Les Fleur Sauvage experience and I want to thank all my co-members for their support."

Rick was a member of a the heavy metal music bands:
Rapid Fire and Deuce-Ex.
Watch Rick's music videos on channel YOUTUBE use search terms: ricksentieri.com

Click here !!! To find out about "Zongzi's Strange Journey!

Click here to read his award winning poetry!

Click here to see a pic of RS singing on his B-day! Taken 1/12/2000

Land of no Right Rick's latest piece of work completed on 1/4/00
Click here to see pictures that Rick has taken of Bonsai!

Click here to see more pictures of Rick Sentieri who lives in Kenosha WI

Click here to find out ways you can help this web-site.
Click here if you want to become an certified member!
Please click here to e-mail me if you have questions!
---
L e s info F l e u r info S a u v a g e
L o v e info P e a c e info H o p e
A unified society with the commitment to supply a forum for undiscovered talent.
Tell us about yourself!
Pictures Ancient One Poems Bonsai Trees Mike Cooper Our Products Site Map
Art Articles Wolf Story Ancient Healing Art Down-Loads Stories Testimonials About Us
---
Information+Free Stuff+Music & Movies+Shopping+Sports & Fitness+Career & Education+Business & Finance+Technical
---
©2011 by Rick Sentieri
All rights reserved.
Disclaimer- http://ricksentieri.com and associates accept no responsibility for any merchandise bought from online stores via these links.
No part of of http://ricksentieri.com may be digitally stored, reproduced, altered, or disseminated in any form or by any means without written permission.
http://ricksentieri.com is a work of fiction. References to real people, events, establishments, organizations, and incidents @ http://ricksentieri.com are creations of the author's imagination, and their resemblance, if any, to actual events or persons, living or dead is entirely coincidental.
Le Fleur Sauvage Productions
Kenosha, WI
Please read our disclaimer.