Click here to purchase "Zongzi's Journey"
[Home] [Fantasy Magazine] [Family Fun] [Shopping] [Music & Movies] [Places To Go] [Finance] [Not Just Free] [Advertising]

Pictures Ancient One Poems Bonsai Trees Mike Cooper Our Products Site Map
Art Articles Wolf Story Ancient Healing Art Down-Loads Stories Testimonials About Us
L o v e info P e a c e info H o p e
Rick Sentieri's Fantasy Magazine
A unified fellowship suppling a forum for the arts
Please read our disclaimer.
Tell us about yourself
Embrace the ones you love before they are gone
Love is the cure for everything.
suicide prevention LOVE STORY second chance LIFE CHOICES
"Zongzi's Journey" Kindle Download $4.99

Zongzi's journey help me to get through depression. I hope it can help others. My brother committed suicide soon after his wife. Too many of my friends took this way out. Once someone came up to me and said "Wow Rick when I first heard that a Sentieri killed himself I thought it was you." Please do not ever say that to some one! If you are suffering from depression or know some one who is PLEASE give them a copy of ZONGZI's Journey. This is why I wrote the book to help people to get through the darkest of moments.

Rick Sentieri
Singing at "The Loft" during the "DEUCE-EX BoiNK THE REST" TOUR "97"
This night Rick seemed to come from right of the darkness SCREAMING like a madman!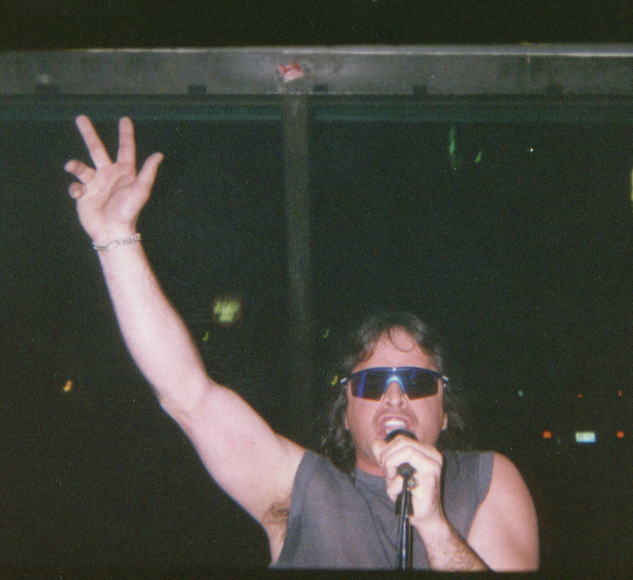 Rick Sentieri
Photography by Julie Smith
At this show Rick's pants kept falling down because of a button on his pants that had popped off!
This show was not one of Duece-Ex's better shows. Just before the start of the show they decided to use the back-up drummer. The original drummer Rick was too hung over from the previous show the band did the night before. The stand-by drummer, Lisa, did a great job keeping the beat. But before the band could play the Rhodes had to clean out a stage area inside a broken down barn. During the show there was a power shortage and they had to use the battery out of the equipment van to power the Momma Death Light. Then latter on after the performance, while playing his harmonica, Rick fell through the floor of the hayloft and onto the banquet table full of food! Rick also cut his lip on his harmonica, slipped in manure and through-up on himself.
Then after coming home from the show Rick had to go right back because he could not find his wallet. Luckily the wallet was found by the hole in the attic's ceiling.
The Rhodes spilt the money that the band was paid because of all the work they had to do in building the stage and putting up the light show.
Article Written by Pamela
click here to send a message to Rick Sentieri
On the following pages is you will find more pictures and stories about Rick.
Page 1 American poet Page 2 American poetPage 3 American poetPage 4 American poetPage 5 American poetPage 6 American poetPage 7 American poetPage 8 American poetPage 9 American poetPage 10 American poetPage 11 American poetPage 12 American poetPage 13 American poetPage 14 American poetPage 15 American poetPage 16 American poetPage 17 American poetPage 18 American poetPage 19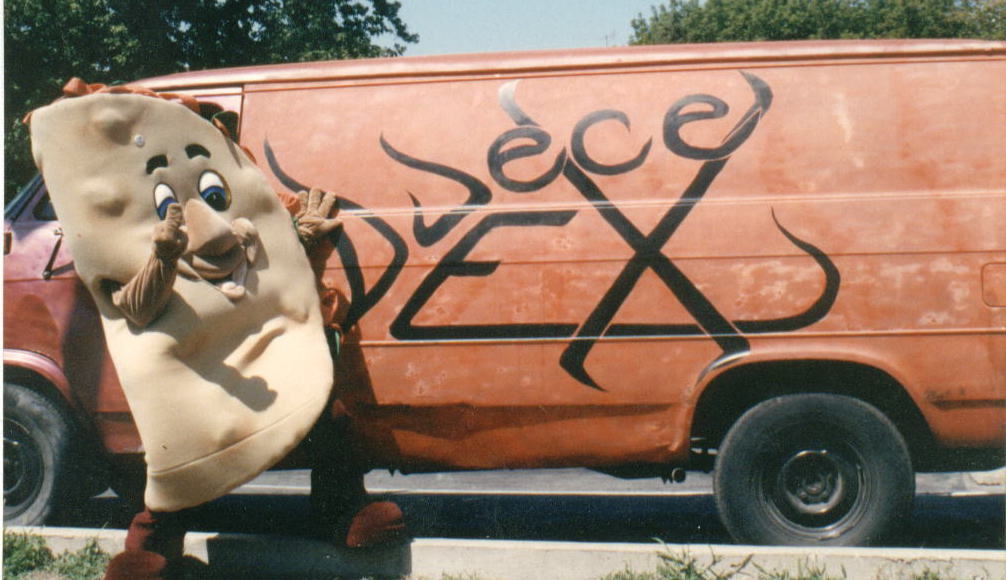 The finger flipping taco and the "Orange Pumpkin" the Duece Ex 2nd equipment van. This van was also painted by the Rhodes and Rick the drummer agian painted the Duece-Ex logo.
During this time Duece-Ex was more into winning softball games. The pumpkin van's main job was to transport the softball team to and from games. One of the this vans biggest highlights was when it actually got into a softball game. The pumpkin van got to pinch hit for a injured player. The bases were loaded in the bottom of ninth inning and the van got hit by the pitch forcing in the game winning run.
"We just stuck a baseball bat into the great Pumpkin's front grill and let it's magic do the rest!" said the team manager John We Willie Wilson.
This van can be seen at the Smithsonian Institute alongside the wax replicas of the Duece Ex softball team!

Clich here for more pics of Rick Sentieri singer/writer who lives in Kenosha WI
Click here to find out ways you can help this web-site.
Click here if you want to become an certified member!
Please click here to e-mail me if you have questions!
---
L e s info F l e u r info S a u v a g e
L o v e info P e a c e info H o p e
A unified society with the commitment to supply a forum for undiscovered talent.
Tell us about yourself and receive our newsletter!
Pictures Ancient One Poems Bonsai Trees Mike Cooper Our Products Site Map
Art Articles Wolf Story Ancient Healing Art Down-Loads Stories Testimonials About Us
---
Information+Free Stuff+Music & Movies+Shopping+Sports & Fitness+Career & Education+Business & Finance+Technical
---
©2011 by Rick Sentieri
All rights reserved.
Disclaimer- http://ricksentieri.com and associates accept no responsibility for any merchandise bought from online stores via these links.
No part of of http://ricksentieri.com may be digitally stored, reproduced, altered, or disseminated in any form or by any means without written permission.
http://ricksentieri.com is a work of fiction. References to real people, events, establishments, organizations, and incidents @ http://ricksentieri.com are creations of the author's imagination, and their resemblance, if any, to actual events or persons, living or dead is entirely coincidental.
Le Fleur Sauvage Productions
Kenosha, WI
Please read our disclaimer.
Advertising Rates For RickSentieri.com If you even thinking about advertising on this site please E-mail u
Click here to invite your friends to visit Rick Sentieri's Fantasy Magazine and you could win $10,000.