[Home] [Fantasy Magazine] [Family Fun] [Shopping] [Music & Movies] [Places To Go] [Finance] [Not Just Free] [Advertising]

Pictures Ancient One Poems Bonsai Trees Mike Cooper Our Products Site Map
Art Articles Wolf Story Ancient Healing Art Down-Loads Stories Testimonials About Us
L o v e info P e a c e info H o p e
Rick Sentieri's Fantasy Magazine
A unified fellowship suppling a forum for the arts
Please read our disclaimer.
Tell us about yourself
THE ONE AND ONLY
Ancient One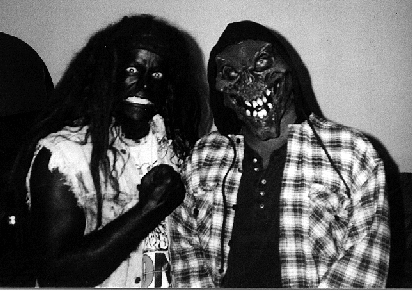 Ancient One with Rodnoc
Picture taken by Hellcat
This picture was taken at the Queens Ball the same evening Ancient One was knighted by the Queen Of England for his spiritual healing powers.
Long ago, back in the mysterious Dark Ages, Ancient One had cured the Queen's court.
The Queens Court had everyone running scared because they were be-heading all the free thinkers of the time. The Queen had Ancient One look into the problem.
The Ancient One found out by watching the Court while they made their murderous judgements and he realized that the Queen's Court's conscious judgement had been greatly affected by dream paralysis. Their minds had become so under-nourished and too weak to fight off the parasitic lost souls of the abyss. These unwanted entities took refuge inside every mind of the Queens Court and they derive sustenance by feasting on their sanity.
Ancient One had a difficult time removing these entities from the Queen's Court but was eventually was successful.
Article by Julis Smith

Page 1 of Ancient One'e stories of out of body experiences

Page 2: Ancient One's Hobbies and Goals Alantis Page 3: Ancient One's Dream State Interview With Count Le Balc´h & Rodnoc

Page 4: Ancient One's & The Queens Court documents Page 5: Ancient One's Out Of The Body Experience

Page 6: Suggestions On How Strengthen The Spirit fireplace Page 7: Interview with the President of the Society of the Mentally Insane


Be the proud owner of Ancient One's handmade SOUL BLANKETS. Sold only here!
Less Fleur Sauvage
Original Artistic Impressions
Be the first one of your friends to own one!!!
"Les Fleur Sauvage" @ http://jimmorrison.com handmade Indian Spiritual Tye-Dyes are available in children's sizes; 4-16 to
adult sizes from; to xxxxlarge. Tee-shirts $57, Sweaters $69, Tube-tops $49, Underware $39, Sheets and Pillow Cases. We also have Custom Orders and give discounts on large orders.
Top selling colors...black & white, purple & black, green & black, navy blue & black, navy blue & white, purple & navy blue.
Any size, any color scheme and design: wrinkle, swirl, stripes and our best seller eagle feather Indian head-dress.

THANK YOU!!! With out your generous donations this site would not be possible! : )
Click here to find out ways you can help this web-site.

Click here if you want to become an certified member!

Please click here to send a note to Rick!

---
L o v e info P e a c e info H o p e
L e pathway F l e u r pathway S a u v a g e
A unified fellowship suppling a forum for the arts
Rick Sentieri's Fantasy Magazine
Tell us about yourself and receive our newsletter!
Site Map peace Bands & Artists hope Poetry give Down-loads family Photography friends Articles nightmares Short Stories awakening Karaoke Machine investigateShow Stopper calendarTestimonials calendar About This Site reports Our products

©2010 by Rick Sentieri
All rights reserved.
Disclaimer- http://ricksentieri.com and associates accept no responsibility for any merchandise bought from online stores via these links.
No part of of http://ricksentieri.com may be digitally stored, reproduced, altered, or disseminated in any form or by any means without written permission.
http://jimmorrison.com is a work of fiction. References to real people, events, establishments, organizations, and incidents @ http://ricksentieri.com are creations of the author's imagination, and their resemblance, if any, to actual events or persons, living or dead is entirely coincidental.
Le Fleur Sauvage
Kenosha, WI
Please read our disclaimer.
---