Family Wellness Home & Auto go Entertainment Stocks & Insurance Coupons
Travel Internet Online Gamblinggo Community Services Miscellaneous Jobs / Resume Help
All For One
L o v e info P e a c e info H o p e
L e pathway F l e u r pathway S a u v a g e
A unified fellowship suppling a forum for the arts
[Home] [Fantasy Magazine] [Family Fun] [Shopping] [Music & Movies] [Places To Go] [Finance] [Not Just Free] [Advertising]

Pictures Ancient One Poems Bonsai Trees Mike Cooper Our Products Site Map
Art Articles Wolf Story Ancient Healing Art Down-Loads Stories Testimonials About Us
Please read our disclaimer.
Tell us about yourself
---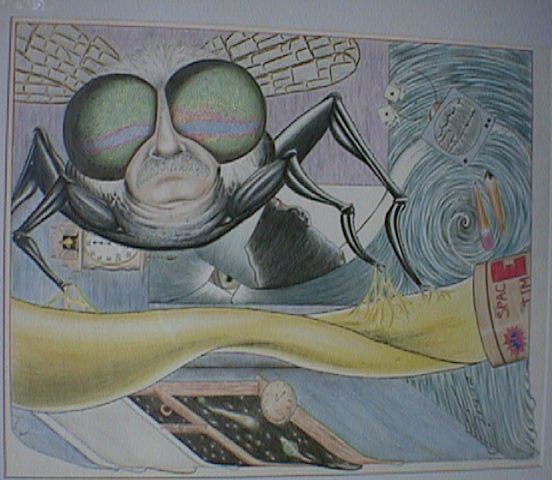 picture by Mike Cooper
AN UNBELIEVABLE STORY TOLD BY AN INSECT.
A Barfly's Destiny
The rescue of Alexander Napoleon Crocket.
Written by Angie Strawberry

Chapter One: A Barfly with a purpose.
Page 1
Page 1 fly Page 2 fly Page 3 fly Page 4 fly Page 5 fly Page 6 fly Page 7 fly Page 8
Hello, my name is Angie Strawberry and I am a Barfly. I am in no way like the other Barflies, mostly because they can not see how short their life span will be.
I was born in England with an inner knowledge of knowing that I would not live long! Meaning I knew that my life could end at any time without warning. Why flies live such a short life, the answers are in the stars.
At this moment that I am speaking to you now, I am nearing my last breath. This tired fly has to go. At least I lived a very full life.
Yes, this old fly has come very far. From over the ocean, miles and miles of adventurous travel, I came from my homeland to hear a crooner named Jim Morrison sing. Let me tell you my journey was definitely worth it!
Nevertheless, to understand all that has come to be, I will start at the beginning.
The few memories of my childhood are best forgotten especially. I did not like crawling on my belly as a maggot.
Born as a parasite I never met my parents and I almost died my first day of life. Luckily, I found desperately needed nourishment right at the moment when I thought I never would. I was a young hungry maggot just about to dry up when I found a dead mouse. Yes I had a difficult childhood.
However, one memory I cherish the most happen one bright summer day. Ah, what a grand day it was! The day I got my wings and told all the other maggots' "Good-bye".
From the moment I flew out of a hole in the wall, I knew that I was going to go places!
After growing tired of the thrill of flying around I quickly decided that my favorite place to hang-out would be at a Pub. I heard of these places growing up inside of the wall. It seemed everyone like going to Pubs.
After that was decided, my first priority was to decide on my purpose in life. I did not waste any time and decided my propose is to decide on all my other favorites.
Favorites meaning the things I admire the most, and I knew I was in no position to be fussy. Ever minute is so precious when you know you know you only have a few days to live.
It was easy to decide on my favorite Pub because it was the nearest one and the door was wide open for me to fly right in. Just like anyone else would do, I flew around and buzzed a few folks just past their ears. Then I settled on the wall listening to radio.
Music was playing and the crooner sang along with the sweet melody. The music bonded with me. My thoughts stop and for a moment, the crooner seems to whisper to me.
He whispers, "Angie". The crooner repeated and whispered again, Angie.
That took care of what my name would be and that is how I got my first name, Angie.
Click here to continue with A Bar-fly's destiny.
Written by Angie Strawberry
---
THANK YOU!!! With out your generous donations this site would not be possible! : )
Click here to find out ways you can help this web-site.
Click here if you want to become an certified member!
Please click here to send a note to Rick!
---
L e s info F l e u r info S a u v a g e
L o v e info P e a c e info H o p e
A unified society with the commitment to supply a forum for undiscovered talent.
Tell us about yourself and receive our newsletter!
Pictures Ancient One Poems Bonsai Trees Mike Cooper Our Products Site Map
Art Articles Wolf Story Ancient Healing Art Down-Loads Stories Testimonials About Us
---
Information+Free Stuff+Music & Movies+Shopping+Sports & Fitness+Career & Education+Business & Finance+Technical
---
©2010 by Rick Sentieri
All rights reserved.
Disclaimer- http://ricksentieri.com and associates accept no responsibility for any merchandise bought from online stores via these links.
No part of of http://ricksentieri.com may be digitally stored, reproduced, altered, or disseminated in any form or by any means without written permission.
http://ricksentieri.com is a work of fiction. References to real people, events, establishments, organizations, and incidents @ http://ricksentieri.com are creations of the author's imagination, and their resemblance, if any, to actual events or persons, living or dead is entirely coincidental.
Le Fleur Sauvage Productions
Kenosha, WI
Please read our disclaimer.
Advertising Rates For RickSentieri.com If you even thinking about advertising on this site please E-mail u
Click here to invite your friends to visit Rick Sentieri's Fantasy Magazine and you could win $10,000.